Double room for Dracula in Soho Hotel - Vampires' Night in Budapest
The Soho Hotel's aim is repeatedly to meet extravagant demands. The main idea to their project comes from the musical "Dance of Vampires" by Roman Polanski - Jim Steinman - Michael Kunze, which has been played 2007 in the 'Magyar Színház' (Hungarian Theatre),  after its first performance in Vienna 1997. As our informer explained, the rooms shall be equipped with barocque style furniture and its colouring will be dominated by red and black. The ars poetica of the Soho Hotel - "The Seventh Sense of Budapest" - is reflected in its unique and exclusive design of the whole hotel area, which is delivering due to its aims high quality service in special atmosphere. The "Soho suites" rooms are offering elegant solutions for admirer of luxury. The hotel rooms are equipped with bigscreen TV, bath room and further comfort functions provide the guest's convinience while staying in Budapest. The Soho Hotel offers babysitting, internet, restaurant and wellness services, even room capacity for smaller private and company events are available.
Make your selection from our service most suitable for you and book your accommodation right here!
(2009-10-26)
Budapest hotels, affordable accommodation and hotels Budapest, Hungary


   Back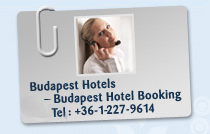 Search free rooms - check room rates