Winter Invitation Budapest
Budapest Winter Invitation. Special hotel offers between 1 November - 7 April!

The hotels of the Accor-Pannonia hotel chain and the members of Danubius Hotels, famous for its thermal and spa hotels offer the following: for the price of three nights you will get four nights, so you can save one-night's accommodation. It is very popular among tourists and businessmen as well.
(2009-05-03)
Budapest hotels, affordable accommodation and hotels Budapest, Hungary


   Back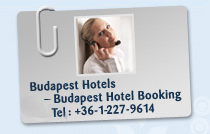 Search free rooms - check room rates