Hotel Balaton*** Siófok - low-priced wellness packages with half board  
from € 65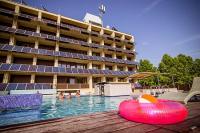 Siofok
Boeken
8600, Siófok, Petőfi Sétány 9.
Reserveren Telefoon: +36-1-227-9614
Actie! Gratis kamernacht : 7=6!
( | 02. jan. 2020. - 29. febr. 2020. | )
The three-star Balaton Hotel Siófok is located directly on the shore of Lake Balaton, on the most elite part of Siófok, on the Petőfi walkway. Balaton Hotel Siófok went through a full renovation to provide higher quality services to the guests. Air conditioned rooms, WiFi internet access and heated outdoor pool await the guests.
---
Balaton Hotel Siófok ***
Balaton Hotel Siófok is located in a six storey building which is equipped with solar panels so the hotel is environmenttaly friendly. It can be easily accessed both by car and autobus on the M7 motorway. The hotel is an excellent choice not only for families with young children but also for family and business events.

Balaton Hotel Siófok rooms:
The rooms of Balaton Hotel are all air-conditioned, have electric shutters and LCD TV's. Each room has a balcony and a bathroom. The rooms have hypoallergenic bedding. There are rooms with a double bed, rooms with two separated beds and specially designed rooms for handicapped people.

Balaton Hotel Siófok restaurant:
The hotel's restaurant is capable of holding up to 200 people. The restaurant's menu card offers a great selection of varieties. It offers traditional Hungarian cuisine but also Mediterranean and Italian specialties can be found on the menu as well.

Balaton Hotel Siófok wellness section:
The newly opened modern wellness section awaits those that would like to regenerate themselves. The panoramic terrace entrance is found on the first floor which gives a wonderful view of Lake Balaton. The wellness area features an outdoor 33-35°C heated panoramic pool, a 10-person Finnish sauna and a salt room combined with infrared sauna and light therapy. The hotel has its own private landing-stage which gives entrance into the lake. The use of the Finnish sauna and the sun beds is free of charge.

Balaton Hotel Siófok conference rooms:
The hotel offers trained professionals for aiding the full support of any type of event that is held at the conference rooms. All technical equipment can be found at the hotel's conference rooms, which can accommodate up to 400 people. The restaurant and the conference room can be sectioned with mobile walls. The rooms are equipped with the newest audiovisual technology with internet access, moreover are air conditioned and also have a heating system.
---
Kenmerken van het hotel :
Schoonheid en gezondheid

Thermaal bad

,

Solarium

,

Schoonheidssalon

,

Zoutgrot

,

Massage

,

Hydrotherapie

,

Dampbad

,

Kapsalon

,

Andere behandelingen

Conferentiemogelijkheden

Verlichtingssysteem

,

Videocamera

,

Computer met printer

,

Bijeenkomstzaal

,

Projector

,

Modem hook-up

,

Mobiele podium

,

Microfoon

,

Airconditioning

,

Conferentieruimte

,

Overheadprojector

,

Internetaansluiting

,

Audiorecorder

,

Versterkingssysteem

,

Flipchart

,

Fotokopieerapparaat

,

Catering

,

Diaprojector

,

Business Corner

Gastronomische specialiteiten

Vegetarische cuisine

,

Internationale specialiteiten

,

Hongaarse specialiteiten

,

Vetarme spijzen

,

Restaurant

,

Buffetontbijt

Hotelfaciliteiten

Gesloten parkeerplaats

,

Meertalig personeel

,

Eigen strand

,

Eigen tuin

,

Huisdieren toegestaan

,

Korting voor kinderen

,

Korting voor studenten

,

Korting voor groepen

Kamerservice

Douche

,

Televisie

,

Kamers voor niet-rokers

,

Airconditioning

,

nternetaansluiting

,

Antiallergische kamers

Sport, Wellness, Fitness

Waterbike rental

,

Vízi futópad

,

Zeilen

,

Solarium

,

Sauna

,

Thermaal bad buiten

,

Schaatsen

,

Rent-a-bike

,

Hengelen

,

Zwembad voor kinderen

,

Fitnessruimte

,

Roederen

,

Aquabike

,

Aqua-jogging
---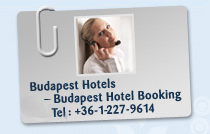 Boeken
Hotel Balaton*** Siófok - low-priced wellness packages with half board
Zoeken op een vrije kamer en prijzen
---
Prices include accommodation, buffet breakfast and the cost of VAT.
The tourism tax is 400 HUF/ person / night (over 18 years) extra to pay.
Child discount:
0-4 years of age in bed with parents (without extra bed) - free of charge
Extra bed between ages 4-14 years: 6000 HUF/ person / night
Pets: 10 000 HUF/ night
Parking:
Car park opposite the hotel: 2000 HUF/ car / day
Closed parking in the courtyard of the hotel: 3000 HUF/ car / day
Accepted Credit Cards: Visa, MasterCard, American Express, Maestro

Check in: 14:00
Check out: 11:00

In case of booking you should make a deposit of 50% of the total amount of your reservation. You may pay this deposit via bank transfer.
---