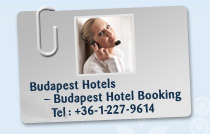 Search free rooms - check room rates
Wellness hotels in Balatonfured, Balatonfured hotel booking
Balatonfured, located on the shore of Lake Balaton offers wellness and resort hotels for the guests. Most hotels have own beach and wellness centre. 4-star wellness hotels in Balatonfured with online reservation.
Balatonfured
from € 130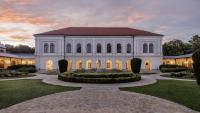 The four-star Anna Grand Hotel **** Wine & Vital is located on the northern shore of Lake Balaton, in the heart of the historical district of Balatonfüred. Hotel guests can choose from modern rooms and rooms reconstructed in period style. Every room has air conditioning and Internet connection. The wellness centre, created in 1200 m², awaits its visitors with modern equipment and services. Anna Grand Hotel is perfectly suitable for big conferences and various events. Anna Grand Hotel Balatonfured - Wine & Vital wellness hotel in Balaton, Balatonfured Pricelist, Online Reservation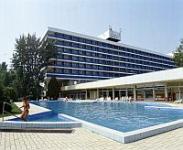 Hotel Annabella - located 50 meters from the shore of Lake Balaton - has 388 rooms, indoor and outdoor swimming pools and private beach. Free time activities and cultural programmes are available for the recreation of the guests. Hungary, 3-star hotels hotel, Lake Balaton, online booking, Danubius hotels. Hotel Annabella Balatonfured - Hotel near the shore of Lake Balaton Pricelist, Online Reservation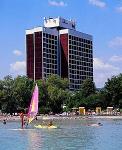 Danubius Hotel Marina is situated right on the shore of Lake Balaton with 349 well equipped rooms and 34 family apartments. The resort hotel is ideal for families with children. Hotel restaurant, private beach and swimming pool await the guests. Children animation, water sports. Hotel Marina Balatonfured - all inclusive hotel at lake Balaton Pricelist, Online Reservation





from € 170
The four-star relic building of Ipoly Residence Hotel is located in the busiest part of Balatonfured, only 50 meters from the shore of Lake Balaton. In accordance with the high quality standards there are 8 suites, 6 premium rooms, a restaurant, a conference room, wellness services (jacuzzi, infrared- and Finnish sauna) and the full-scale infrastructure of Anna Grand Hotel (garage, wellness center, bowling alley, catering facilities) stays at your disposal located 100 meters away from the hotel. Ipoly Residence Hotel Balatonfured - luxus apartment hotel with wellness sevices at Lake Balaton Pricelist, Online Reservation











from € 60.5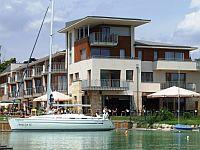 The 4-star Hotel Silver Resort Balatonfured **** superior is situated directly on the shore of Lake Balaton, in Balatonfured, in the centre of the lakeside area, next to Tagore Promenade and the port. Hotel Silver Resort Balatonfured is a wellness and conference hotel with a port of its own, with double rooms with balcony and panoramic view and de lux apartments. Hotel Silver Resort offers a wide range of services for all who need an active rest, holiday or yachting. Hotel Silver Resort Balatonfured - wellness hotel directly at Lake Balaton Pricelist, Online Reservation








---
Wellness weeks in Hungary - 2013-12-11
I have always liked Hungary because this is an amazing country and its thermal baths and wellness hotels are very famous. I visited more wellness hotels but this year I succeeded in staying so nice hotel where I haven't been yet. I spent very pleasant days and I'd like to thank the team of Budapest hotels - Budapest hotel booking who helped me to find the best place for my holiday time.
Sights of Budapest - 2013-12-11
Budapest, lying on both banks of the Danube, is a city which offers many historical and cultural sights.
The two banks of the Danube from Margaret Island to Gellert Hill, the Buda Castle Quarter, the Andrássy út and its historical environment are all the part of the World Heritage.
Some of the outstanding buildings are the Opera House, the Ballet Institute and the Music Academy. Under the street there is the Millenium Underground Railway, which was the first on the continent. Andrássy út leads to Heroes' Square. The statues of outstanding Hungarian rulers and leaders stand in the semicircular colonnade. On the two sides of the square there are the Museum of Fine Arts and the Art Gallery.