The 4-star Grof Degenfeld Castle Hotel**** is situated in Tarcal, in the heart of the world famous Tokaj wine region, next to the Grof Degenfeld Winery. The castle hotel offers 20 rooms, 1 suite, restaurant, wine cellar and many recreational facilities (outdoor swimming pool, sauna, tennis courts, horse riding, etc) for its guests.
Degenfeld Grof Castle hotel - Tarcal - Count Degenfeld
3915 Tarcal, Terézia kert 9.
Room reservation phone: 00-36-1-2279614
Room reservation fax: 00-36-1-2279614
---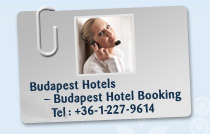 Online Reservation
Grof Degenfeld Kastelyszallo - Castle Hotel Degenfeld Tarcal, Hungary
Search free rooms - check room rates
---
New Year's Eve in Budapest - 2013-12-12
 Fantastic hotel offers and programmes await our guests in the hotels of Budapest and Hungary. The hotels offer 3 night packages including gala dinner and programmes from the 29th of December. Spend the New Year's Eve period in our hotels in Budapest or in the countryside. Take the gala dinner with champagne in the hotel restaurant recommended by our master chef. Fireworks and dance music at the end of the programme.
Discover Hungary - 2013-12-12
I spent one week in Hungary last summer. Although I had visited other countries I had to appoint that your country is a varicoloured area, I mean it's history and nature. I felt fantastic in my holiday time and I surely decided to spend some day or week in your nice country next year. I surely visit the famous Budapest hotels also.