Hotels in Egerszalok**** - Discounted spa thermal and wellness hotels in Egerszalok
Special package offers of the hotels in Egerszalok, Hungary. Wellness, spa and thermal hotels in Egerszalok near to the famous thermal well. Hotel rooms at reduced prices at the only salt hill in Europe. Affordable accommodation with halfboard in Egerszalok.
Egerszalok
from € 122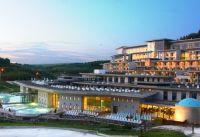 Saliris Resort **** Spa and Conference Hotel is situated in a 17.5 hectare superb natural environment ringed by pine forests in Egerszalok. The four-star spa hotel is connected by a glass corridor to the exclusive thermal spa, built near the only salt hill of Europe. The Thermal Spa of Egerszalok with its 17 outdoor and indoor pools (sitting pools filled with medicinal water, cave pool, jacuzzi, adventure pools, children pools, Kneipp tread basin, echo pools) on a water surface area of 1900 m² ensures the total relaxation and rejuvenation of guests. Saliris**** Resort Spa and Thermal Hotel Egerszalok - Spa thermal wellness hotel in Egerszalok Pricelist, Online Reservation
















Hotel Shiraz**** Egerszalok
- Wellness and Conference Hotel Shiraz Egerszalok, Hungary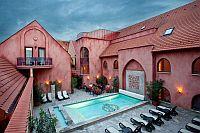 The 4-star superior Fabulous Shiraz Wellness and Training Hotel is located in Egerszalok, famous for its salt hill and Thermal Spa. Fabulous Shiraz Wellness and Training Hotel combines luxury with oriental convenience and Mediterranean elements and offers 42 rooms in different categories, two restaurants, a North African Bathhouse, a Moorish Bath and other wellness services and special massages. The hotel's five conference and meeting rooms are ideal venues for business and family events. Hotel Shiraz**** Egerszalok - Wellness and Conference Hotel Shiraz Egerszalok, Hungary Pricelist, Online Reservation











---
Wellness weeks in Hungary - 2018.03.26.
I have always liked Hungary because this is an amazing country and its thermal baths and wellness hotels are very famous. I visited more wellness hotels but this year I succeeded in staying so nice hotel where I haven't been yet. I spent very pleasant days and I'd like to thank the team of Budapest hotels - Budapest hotel booking who helped me to find the best place for my holiday time.
Thanks for the fantastic weekend in Budapest - 2018.03.26.
The fine hotel with a wonderful atmosphere and the walking on my last day made my stay unforgettable in Budapest. Thanks for the many information of your website. It was a wonderful experience to walk over the Chain Bridge and to admire some interesting views of the lightened Buda Castle, the Gellert Hill and the Liberty Statue.